Air Astana President and CEO Peter FOSTER:
AVIATION SAFETY IS AN AIR ASTANA CORE VALUE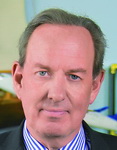 ALMATY. April 16 (Interfax-Kazakhstan) – Kazakhstan's largest airline Air Astana will offer a variety of promotional fares to its passengers this year and will provide even more flexible services through cooperation with Kazakhstan's new airline Qazaq Air. Air Astana President and CEO Peter FOSTER told Interfax-Kazakhstan in an interview about the company's plans and expectations for this year and about its dedication to aviation safety.
- Mr Foster, what are your forecasts for capacity and profit for Air Astana in 2015?
- We plan an increase in capacity by 7%. This assumes no devaluation, in the event of devaluation net profit will be affected because of debt revaluation.
- Does Air Astana plan to launch any new flights this year?
- We plan to launch Paris on 29 March from Astana, operating 3 times a week. The flight will actually originate in Almaty and will serve both Almaty and Astana routes.
- Air Astana has the so-called "Grey List" of passengers inclined to rowdy behavior. How many people are on the list? What are the consequences for such passengers?
- At present time at "Grey List" or the "Watch List as it called in Air Astana" were added 14 passengers. The passengers who added to the "Grey List" posed a potential threat to the safety flight and the safety of staff and passengers. The passenger's behavior resulted in a serious event where the safety of the aircraft or an individual (passenger or staff member) was compromised including injury to other passengers, Air Astana personnel or aircraft diversions. The most frequent violations of passengers who added to the Watch List are: intoxication, verbally abuses and physical violations.
Aviation Safety is an Air Astana core value and interference with the safety of flight and the safety of staff and passengers is unacceptable and will be actively denied through all and any means available to reduce the risk to acceptable levels. The passenger who is added to the Watch List or faces with the restriction of on-line check in, and during check-in at the registration desk "Watch Listed" passenger receives Notification Letter that he will be monitored during the whole flight.
- The promotional fares offered by Air Astana are very popular with the passengers. Do you plan any promotional campaigns for this year?
- Yes our promotional fares are very attractive and are keenly sought after. We run a number of campaigns throughout the year, often with quite different ends. For example, recently we have been running a promotion specifically to highlight our new services from Almaty to Paris via Astana. These sorts of campaigns are usually well priced (KZT89,000 including all taxes/fees/charges ALA-TSE-PAR-TSE-ALA), and on sale for a short period. They are tactical and are designed to grab the consumers' attention and stimulate sales. This particular short term campaign was somewhat unique as the special fares where valid for travel at any time of the year, valid from all our points in Kazakhstan and it provided for refunds and date changes without penalty in case the passenger was unable to attain their visa for France.
Other promotions are more structural. For example, we have a range of advance purchase fares which are on sale all year (M class). These are available for both domestic and international routes. Visitors to our website are able to use our "Advance Purchase Fare Finder" to see on which dates these special fares are available (rather than entering the desired date of travel and being provided with a fare for that specific date only). This allows our customers to plan in advance and to get the best possible fare for their trip.
We have just launched another promotion whereby children travelling with their parents or guardians from Kazakhstan to the United Arab Emirates (Dubai and Abu Dhabi) will travel for free. This offer is valid for travel in the periods of historical lower demand over the summer months.
Often our promotions can be in response to lower than expected demand on certain flights. It is therefore difficult to comment on exactly how many promotions and on what destinations we are likely include each year. This will depend on overall demand of our flights. Notwithstanding, it is likely that during the course of any one year, we would have a New Year and/or Autumn Seat Sales addressing traditionally weaker flights; plus some special promotions surrounding specific events like Women's Day, Valentine's Day as well commemoration of the Great Patriotic War with special fares for veterans.'
- What about the flight to Kyiv?
- Demand for Ukraine is clearly weaker than it has been previously. We have reduced frequency between Almaty and Kiev from 6 weekly flights last year to 3 weekly flights. We have also suspended services between Astana and Kiev. Our hopes that the demand will return, so that not only can we increasingly service the market between the two countries, but that we can improve Kazakhstan position as the transit hub between Kiev and our online points India, Thailand, Hong Kong, Malaysia and China.
- Have you established any relations with the new Kazakh airline Qazaq Air?
- Air Astana expects to conclude agreements with Qazaq Air whereby passengers will be able to conveniently transfer between Air Astana's network and that of Qazaq Air.
- Are there talks underway between Samruk-Kazyna and BAE Systems about Air Astana's participation in the "people's" IPO?
- At the moment there are no IPO negotiations between Samruk-Kazyna and BAE Systems however the company firmly believes that an IPO listing should take place in the next 3 to 4 years in order to access capital markets for future expansion.
- Does Air Astana plan to launch dedicated international freight services?
- Air Astana has no plans at this time to introduce dedicated freight services but will continue to transport cargo in the bellies of its passenger aircraft.
Thank you for your time!
April, 2015
© 2019 Interfax-Kazakhstan news agency
Copying and use of these materials without reference to the source is prohibited
Archive