Andrei PEKANOV, Head of the Sales Development & Control System Section of Russia's JSC Transmashholding:
A HUNDRED NEW PASSENGER CARRIAGES: HOW COOPERATION BETWEEN RUSSIA AND KAZAKHSTAN IS DEVELOPING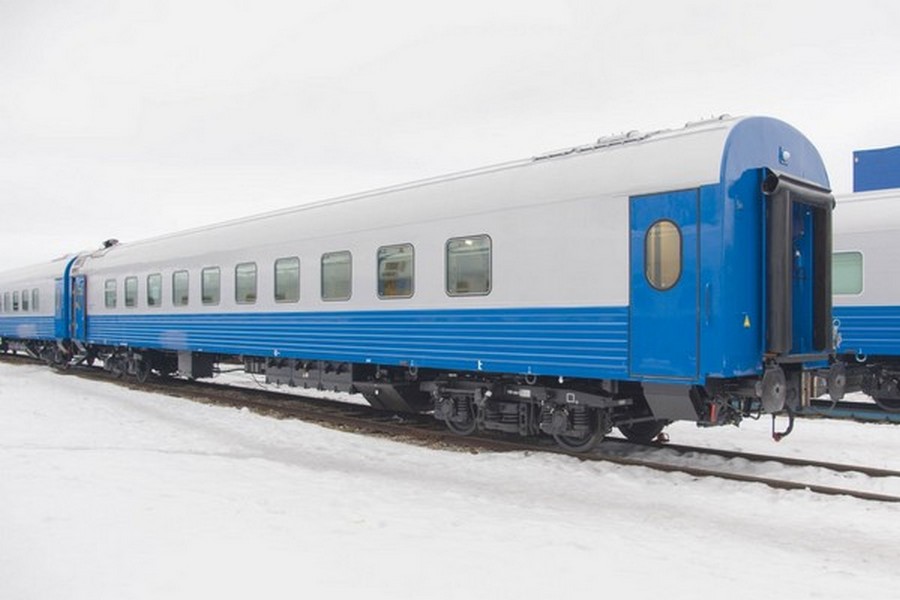 Kazakhstan's national rail carrier - Passenger Transportation JSC (part of Kazakhstan Temir Zholy) is implementing a strategy for upgrading passenger carriages. Under an agreement signed in February with the Russian machine-building company Transmashholding (TMH) by the end of the year Kazakhstan will get 100 new passenger carriage sets assembled at the Tulpar plant using technology of the Tver Carriage Works (TVZ, part of TMH). Andrei PEKANOV, head of the Sales Development & Control System Section of Transmashholding JSC, talked in an interview with Interfax-Kazakhstan how cooperation between the two countries for the development of passenger rolling stock continues.
- Cooperation with Kazakhstan has expanded this year. Has the pandemic hindered plans to deliver carriages?
- Almost since the very beginning of the pandemic TMH has been included in the list of systemic companies by a decision of Russia's government commission. Thanks to that production site downtime due to the pandemic has been minimized and the company has been meeting all its export contract obligations this year. In particular, we have sold 100 passenger carriages to Kazakhstan. The final batch is expected to be delivered at the end of December.
The other export programs are also in progress. In 2020 we have delivered 10 shunting and freight diesel locomotives to Mongolia, 4 freight diesel locomotives and 5 freight electric locomotives to Uzbekistan, 20 subway carriages to Azerbaijan and more than 100 carriage sets to Kazakhstan. All of these contracts have been implemented without changing their terms and conditions.
In addition, the pandemic has not prevented us from developing TMH projects in the far abroad countries. This year, we hav activated a contract option with the Sofia subway to upgrade sybway carriages with a total number of up to 40 carriages, signed a big contract in Germany for servicing 78 Siemens and Stadler electric trains, begun implementing a contract with Egypt for the delivery of 1,300 passenger carriages, signed an agreement to repair 194 and upgrade 209 carriages for the Hungarian passenger carrier MAV-Start and many others.
- JSC Passenger Transportation took enhanced customer focused course and strives to improve passenger services. What contribution to this process will be made by the rolling stock renewal thanks to passenger carriages, which Tulpar assembles using TVZ technology?
- TMH is the largest in Russia and one of the world's leading manufacturers of passenger carriages. Our carriages are used on the railroads of Russia, Kazakhstan, Belarus, Latvia, Lithuania, Mongolia and Egypt. Trains made up of them run on international routes to Helsinki, Nice, Sofia, Belgrade, Warsaw and other European cities. They are also competitive in the far abroad countries as confirmed by a tender at unprecedented scale we won in Egypt for the delivery of 1,300 carriages exceeding a billion euros in value.
Our carriages are adapted for operation in various climatic conditions, including sharply continental climate with large temperature ranges, which Kazakhstan features. Customers in Russia and Kazakhstan have similar requirements for passenger transportation, and we can offer them ready-made, already proven solutions. The regulatory environment is also the same, since Kazakhstan and Russia are within the Customs Union's technical regulations coverage.
The carriages that Kazakhstan gets are equipped with everything necessary for passengers' comfort and ready to operate in current conditions. They can increase speed up to 160 km / h, have a long service life of at least 40 years, are equipped with air conditioning systems, eco-friendly toilets, wireless Internet , USB chargers. The carriages fully meet the customer's requirements and are approved by passengers. And we have all along been making them more perfect and improving as we get operation feedback.
- This year due to the coronavirus pandemic, the transportation epidemiological safety came to the fore. How do air disinfection systems in new TMH carriages help reduce the risk of contamination/infection?
- TMH was one of the first to start tackling these issues a few years ago. Jointly with the sanitary authorities of the Russian Federation and manufacturers of key units and components, we worked out systems for disinfection of both water and air within passenger rolling stock. These devices underwent a full cycle of tests and allow minimizing the possibility of the spread of whatever diseases, be it coronavirus or other diseases passed through airborne transmission of droplets.
Compact high-tech devices purify air using high-power amalgam germicidal ultraviolet lamps - similar to those used for disinfection of premises in medical facilities. When bacteria and viruses enter the installations, they cease to be dangerous to humans. Each set can disinfect up to 2,500 m3/h.
- What systems maintaining the fire and transport safety are new carriages equipped with?
- The carriages are made of safe materials that comply with all fire safety standards, equipped with sensors of a centralized fire system and fire extinguishing devices using the water supply from the carriage water supply system. And the CCTV system helps monitor public order. There are also systems for alerting passengers using audio transmissions and scrolling text messages. Over the years of its operation both in Russia and in other CIS countries, the carriages have proved themselves to be absolutely safe.
- For many years TMH has been actively cooperating with Kazakhstan Temir Zholy (Kazakhstan's Railways) and other companies operating across the republic. Over the years mainline and shunting diesel locomotives , AC electric trains and locomotive-hauled passenger carriages have been delivered to Kazakhstan. What are your plans for further cooperation? Will the deliveries of passenger cars to the republic continue?
- Kazakhstan is not only a priority market, but also a partner country for TMH. Our cooperation program in terms of deliveries and production is expanding every year. We plan to continue developing our technological presence, increase localization of our rolling stock, attract new suppliers and local partners.
So, our specialists visited the Tulpar [production] site in Kazakhstan, conducted a technology audit, helped build up the production cycle and necessary quality system. In turn, specialists from Kazakhstan's business and operating entities come to the Tver Carriage Works, take courses in our training center. The carriages delivered this year and putting into operation on the railroads of Kazakhstan Temir Zholy have already been made in Kazakhstan.
Our strategy with regard to external markets, including Kazakhstan's market, envisages not only export activities, but also aspiration for industrial presence, close cooperation with customers, and the development of the production potential of local partners.
- Thank you for the interview!
December, 2020
© 2022 Interfax-Kazakhstan news agency
Copying and use of these materials without reference to the source is prohibited
Archive