Chairperson of the Management Board of the National Research Center for Obstetrics, Gynecology and Perinatology Dinara MIRZAKHMETOVA:
WITH INCREASE IN QUOTAS OF UP TO 7,000 A YEAR, IFV CHILDREN'S BIRTH RATE MAY RISE 6.7-FOLD IN KAZAKHSTAN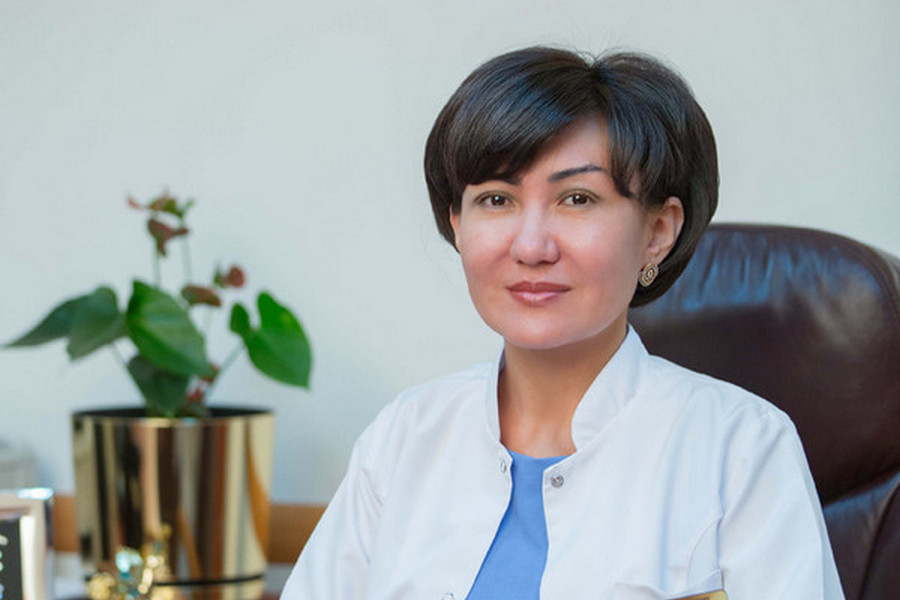 In Kazakhstan in 23 years since the start of the in vitro fertilization (IVF) treatment 15,000 children have been born with the help of IVF. Annually IVF centers carry out nearly a thousand procedures as per state quotas, but this is not enough and women, who need the procedure, have to wait their turn for years. President Kassym-Jomart Tokayev gave an instruction to increase annual quotas to 7,000. Dinara MIRZAKHMETOVA, chairperson of the Management Board of the National Research Center for Obstetrics, Gynecology and Perinatology, talked in an interview with Interfax-Kazakhstan to what extent IVF children's birth rate would increase and how the first child, born as a result of IVF, is living in Kazakhstan.
- Dinara Dosalyievna, when did IVF procedures start in Kazakhstan? Tell us about your first experience.
- In Kazakhstan, the active discussion of the problem of infertility has been started since the late 90s. And in 1996 in the City Human Reproduction Center in Almaty with the help of in vitro fertilization (IVF), the first child was born - a girl - who all by herself became a mother on October 15 last year. Her pregnancy and childbirth were natural. This proves that women born through IVF are quite capable of conceiving and bearing their children.
To date with the help of IVF, more than 6.5 million children have been born worldwide. In our country, according to Kazakhstan Association for Reproductive Health, about 2,000 children are born annually with the help of IVF, 300 of them as per quota.
- How many quotas are currently allocated for free IVF procedures in the country?
- The first 100 quotas were allocated by the state in 2010. But their number is increasing every year. And if last year the country allocated about 900 quotas, then this year 1,120 quotas have been allocated to us.
But even this is extremely small because there are about 8,000 infertile couples are on the wating list within the framework of the state guaranteed free healthcare volume, who would like to have children but cannot afford IVF services.
And due to the insufficient number of quotas, the reproduction centers are forced to choose those couples who have a higher chance of getting pregnant, who have a sufficient amount of high-quality genetic material. Therefore, as a rule, a quota for IVF is provided to patients of reproductive age with normal somatic, endocrine status, including a normal ovarian reserve - a supply of high quality eggs. Couples with serious illnesses and exceeding the age limit of 45 years may be denied a quota.
In the annual state of the union address President Tokayev instructed the government to kick off from 2021 a special Long-awaited Baby program and increase the number of in vitro fertilization quotas by 7 times. Well, let's hope it will come true.
- Are there statistics on how many women in Kazakhstan, who cannot conceive a child for some reason? And how long do women have to wait their turn for IVF?
- According to the national e-health center in 2020 9,467 women experiencing infertility have been registered. When the president addressed the figure was announced - how many families in our country cannot have children. In his words, every sixth family in Kazakhstan cannot have children and, as opinion polls show, 20% of Kazakhstani citizens consider this to be a weighty reason for divorce. It is necessary to increase the number of quotas for IVF procedures to 7,000, that is, seven times.
IVF quotas are due when male infertility is confirmed, fallopian tubes are blocked or missing. By the way, a year ago this service was included in the compulsory health insurance scheme. Therefore, more patients can undergo IVF.
IVF as part of the medical care guaranteed volume is provided once per year. And if you are unlucky and there is no positive result, you will have to wait your turn again.

- When does a woman really need IVF? With what illnesses and causes for infertility do Kazakhstani women approach most often?
- According to statistics in our country about 10%-15% of married couples are registered with the diagnosis of infertility. But in fact, this figure may be much higher, because the problem of infertility needs to be considered much more broadly. Actually these are not only personal problems of patients. Now male infertility dominates the leading positions. In women, if earlier often the tubal factor was a cause then now the endocrine factor should also be taken into account. That is, infertility, both on the part of women and men. These are stresses, infections, some kind of hormone disruption. As a result, we get infertility. There is also a genetic predisposition to any disease that is transmitted genetically. Here geneticists come into play.
As for the number of times children can be conceived via IVF endlessly in the absence of contraindications. However, if many attempts have not brought the desired result, then the attending physician and the woman herself should consider other options for fertilization.
- Can you give the age of the oldest and youngest women who underwent artificial insemination?
- Cases are known when women used IVF services at the age of 50 and older. As far as I know, a woman lives in Nur-Sultan who, at the age of 54, gave birth to a daughter using in vitro fertilization. And the oldest mother, who gave birth to twins at once, lives in Taraz. Young women aged 19-22 resort to IVF as well.
- How many women annually undergo IVF, including chargeable procedures in Kazakhstan and what is the successful fertilization percentage of these operations?
- Every tear provisionally 5,000-6,000 people apply for a chargeable procedure throughout the republic. But, unfortunately, the IVF effectiveness is not always 100%. The IVF average efficiency, according to global data, is 30-50%. The same situation in Kazakhstan. Pregnancy occurs in 35-45% of cases at the first attempt. But let me repeat once again, the state subsidizes only one attempt. However, often couples, who are eager to have children, make several attempts. It happens that they undergo 8-10 procedures. One should understand that the positive result depends on many factors: the age of the spouses, health status and many other reasons, about which I already spoke earlier on.
The average age of women applying to IVF clinics is 35-38. In younger women aged 22-25, who have only the fallopian tube obstruction the highest efficiency can reach 50%-55%. If a woman is 40 years old, then the pregnancy probability is about 10%. In women older than 30 the ovarian reserve begins to decrease. And with every passing year women have fewer and fewer chances of getting pregnant not only naturally, but via IVF.
But here, in addition to the occurrence of pregnancy, it is also necessary to look on the outcome of childbearing. After all, pregnant women have their own risks. As a rule, 80% -85% of those, who managed to get pregnant, carry their children to full term. As a result, approximately 33-34 children are born out of 100 started procedures.
- Tell us how much one IVF procedure costs the state under a quota and how much will it cost a woman if this is done on a chargeable basis in a private clinic?
- Until last year the state allocated nearly 900 quotas. Unless I am mistaken, about 600 million - 700 million tenge (432.64 tenge/ $1) was allocated for the implementation of the [IVF] procedures. In fact, IVF is a quite expensive procedure. Depending on the complexity, the cost ranges from 500,000 to 1.5 million tenge. The reason is because of the condition of the woman herself and in the fact that all assisted reproductive technology program components: reagents, equipment - are very expensive. Moreover, everything is for single use. Drugs account for half of the cost.
- How many IVF labs with chargeable services are in Kazakhstan?
- As part of the guaranteed volume of free medical care, IVF procedures are carried out by 15 healthcare entities in the country's 7 regions. In total, there are 26 IVF centers in Kazakhstan, including 21 private ones.
- What results can we reach if the number of quotas increases to 7,000 as instructed by the president?
- Let's count together, if with 900 quotas allocated a year nearly 300 children are born, then with 7,000 quotas, more than 2,000 kids could be born.
- In conclusion, I would like to hear some inspiring stories about women who underwent IVF and successful operations.
- There was one case in my practice. One woman, who I looked after and then operated, tried to undergo IVF 7 times. For the seventh time she made it, a healthy boy was born. I asked her: "How did you live. Is it very expensive?" She said that she wanted to have a child so much, and her salary had been spent on IVF, and they had lived off her husband's salary.
There was another case when a woman succeeded at the eighth attempt. Then a girl was born. There were cases when several embryos were placed together, they took root and as a result twins were born.
- Thank you for the interview!
November, 2020
© 2022 Interfax-Kazakhstan news agency
Copying and use of these materials without reference to the source is prohibited
Archive