Chairman of the Management Board of Kazakh Invest Saparbek TUYAKBAYEV:
KAZAKHSTAN IS OPEN TO INVESTORS' INITIATIVES AND READY TO PROVIDE A PLATFORM FOR THE IMPLEMENTATION OF PROJECTS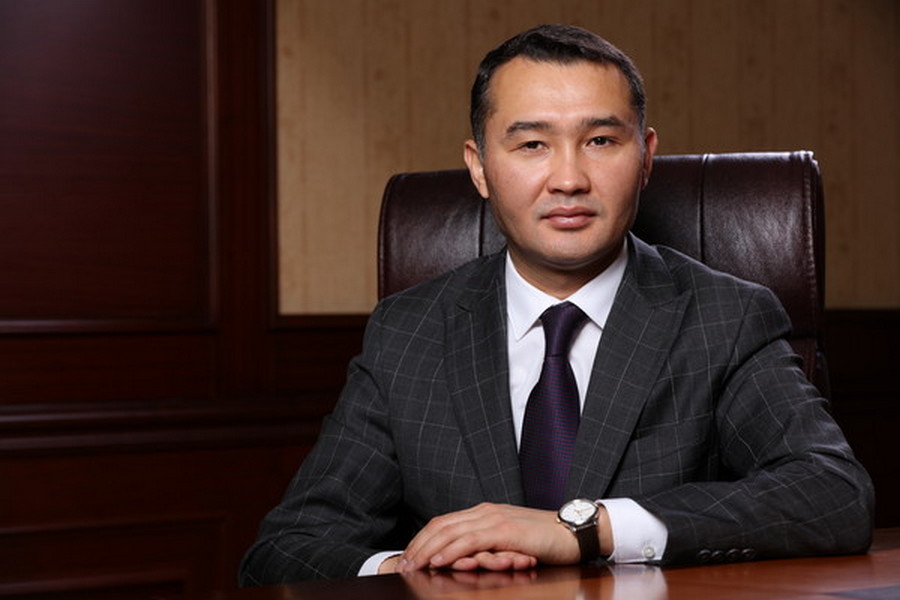 Nearly 200 projects worth $ 48.6 billion are being monitored by National Company Kazakh Invest. Of them 53 projects worth $ 13.3 billion are being implemented. Such results were largely achieved thanks to new approaches to work with investors. Saparbek TUYAKBAEV, chairman of the Management Board of National Company Kazakh Invest spoke about the tools for attracting foreign capital and promising areas for investing funds in an interview with Interfax-Kazakhstan.
- The company was established in April last year. What tasks for Kazakh Invest have been set and what successes have been achieved over this period?
- Many people wonder: what does Kazakh Invest do? There is the Ministry for Investments and Development, which deals with more systemic issues: improving the investment climate, legislative work, adopting programs, their implementation. We are engaged in projects. In other words, we are a government project office. We have an individual approach to each project, a personal contract, proceed step by step and help. We define the project, target multinational companies and large investors abroad, negotiate with them with pinpoint accuracy, attract, find partners and launch projects. The work is carried out on the one-stop shop principle.
To date, 188 projects totaling $ 48.6 billion are in progress in various regions, industries, at different stages; 53 projects are being implemented, paperwork is drafted under 50 projects, 76 projects are under development, that is, sites, land plots, sources of financing and so on are being defined. In the first half of the year 9 were already implemented on schedule.
- Tell us more about these projects. In which sectors will they be implemented, with investors from which countries is work expected?
- For the first 7 months of this year we scrutinized 73 new projects from the mentioned list. Of them nearly 40 totaling $ 17 billion [are represented] by completely new companies, which this year came to Kazakhstan. In the agro-industrial complex - the food industry - 6 meat processing projects are started with investors' participation from Germany, Australia, the UK, Italy, China and the US. Products will be fully export oriented - mostly to China, partly to Russia. It is planned to commission 4 large greenhouse projects jointly with Turkey, the Netherlands and Russia. We have scrutinized 7 projects on agricultural products deep processing - potatoes, tomatoes, fruits. We are discussing the construction of a sugar plant with the Arab investors. Now we are looking for land plots.
The high investment activity is being observed in the oil and gas chemistry - production of lubricating oils, methanol, propylene, ethylene.
We scrutinize the creation of an automobile cluster in the engineering industry worth up to $ 1.1 billion with China. It is planned to build a full-scale plant with a capacity of up to 100,000 vehicles per year, of which about 20% are electric cars. On the premises of this plant we plan to create about 20-30 small enterprises, which would manufacture components, because without components it is difficult to compete. For Kazakhstan, this would be full-fledged production, a large cluster. We could become one of the auto clusters in the Eurasian Economic Union [EAEU]. Car assembly localization would reach as much as 70%.
- How keen are the investors to go for innovative projects?
- Yes, special attention is paid to innovative projects. For example, an American-Chinese company will build a large biotechnical plant. The first investment will be about $ 2.5 billion. It is planned to produce textiles from wheat – a counterpart for synthetic yarn, but more organic. The enterprise would process about 2.5 million tonnes of feed grain in 3-4 varieties. There is the constant demand for raw materials, exports of high-tech products, as well as stable prices for farmers' products. This year we would complete a study, do necessary paperwork and approximately from 2020 we would proceed with construction. Currently we are examining land plots in several regions, there where logistics is developed and there are water and resources.
Another serious project is solar panels production. The French, Chinese and Russian companies are in the process of creating a joint venture and intend to buy out our the Astana solar plant launching end-to-end cycle production- from silicon to solar panels. Plus the company would not only produce panels, but also build turnkey solar stations. We expect first orders from Russia. Lending to these projects would most likely come from China. We are in the process of defining the costs.
- Did I correctly understand that currently the main priority sectors in attracting foreign funds are the food industry, oil and gas chemistry, metallurgy and machine building?
- Yes. Kazakhstan has long depended on investments in the commodity sector, now the structure is changing. We set the task of raising funds for the export-oriented manufacturing sector. What does an investor need? First of all, large companies are interested in large markets, consumption of their goods, the rule of law and security of their investments.
We have access to the market with a population of 180 million people. In the framework of the New Silk Road Initiative, serious relations have been built up with China. There is economic integration among the Central Asian countries, where the market is about 70 million. Trade with Uzbekistan, Tajikistan and Kyrgyzstan is growing. Kazakhstan is in the middle of the huge market.
Within the framework of the International Financial Centre Astana (IFCA), the independent judiciary has been established based on the principles of the English common law. Logistics is built up - these are acceptable tariffs for container transportation. This is a long-term painstaking job.
Therefore, the food industry is in the first place. The potential of the country's agriculture is not fully mastered. Yes, we cannot produce in billions, but we can produce high-quality products. This sector can become the driver of the economy in 10-15 years. Because it does not matter which technologies will be in the world in 20, 50 years. People will consume food (always), and the number of the (population) grows, and the level of consumption increases. Now the products are supplied to China from New Zealand, Australia, Canada, USA. Yes, it is cheaper to ship by sea but from the east coast to western China – 4,000-5,000 km, but our border is 1,000-1,500 km. Over there 300 million people live. Here is our market, in this respect we can compete with anyone. That is why the Germans, Italians, Australians come over to us to build meat processing plants. That is why we believe that this is a priority, and here we can become a serious player.
The second area is the oil and gas chemistry. We annually export about 70 million tonnes of crude oil and gas condensate, more than 20 billion cubic meters of natural gas, but the market for raw materials is very volatile. Therefore we need to focus on deep processing.
The third one is metallurgy. For example, rare earth metal is a product of the future. Electric car, gadgets - all this is impossible without this raw material. We have great prospects in this respect - not just to export raw materials, but to manufacture a product with deep processing and high added value.
And, of course, mechanical engineering. As I said Kazakhstan can take its place in the EAEU market.
- What other sectors can be called promising for the investors in the future?
- We identified several promising industries. Firstly, IT. If Astana IT-hub becomes a success story we can export these services in the future. Secondly, finances. The opening of an international financial center took place so we have every opportunity to become a financial center like Singapore, Dubai in our region.
Thirdly, tourism. And the last one is public-private partnership. The BAKAD project [the Almaty Ring Road Project] has been discussed for years and is now successfully launched. This is 100% private investment - the state defines the framework, provides business for an investor.
-How are the market needs analyzed and how do ideas for projects appear?
- We have established close cooperation with the Kazakh business and in many respects we really borrow these ideas from them. We defined the priority sectors of the economy, we are in constant dialogue with the entrepreneurs, we exchange opinions, find out what they would like to create. So an idea comes up. A project is jointly developed, and further we target, look for who would be interested in this project. We negotiate with investors, we decide on that. If earlier there was a problem that initiatives were not worked out, now we undertake this role.
Sometimes an investor says: "Where to invest?". Earlier we could not explain, but now we have clear-cut proposals, where to invest, when will this be recouped, what preferences we can offer.
- I have heard a lot of the information and monitoring system for working with investors. How does it work?
- Yes, the company has developed a CRM-system (information-monitoring system), all of 188 projects are included in it. For the time being it works on the basis of Kazakh Invest. In the near future it is planned to link up the pilot regions, state agencies and embassies. By the end of the year we intend to cover all representatives with whom investors interact. Let's say, an investor entered the CRM system. He needs a land plot, a visa or something else - an application goes to the relevant state agency's user account and staff starts working. We can track this work, and we, and the authorities on the ground. Trough it an investor can complain, ask all questions, that is, the system will manage all processes.
- With which countries are relations yet to be established?
- We studied all the countries without exception by several parameters: who invests most, who has high-tech, in what countries the global business is concentrated. Using these data 11 countries were identified: the USA, Russia, the UK , Germany, France, Italy, Turkey and the UAE plus China, South Korea and Japan. We are working very actively with them. But this does not mean that we are limiting ourselves to that. In Asia there are India, Malaysia, Indonesia, Thailand. In Europe - Spain, Sweden, the Netherlands with very high concentration of transnational companies. But when we look for an investor, when we target a project; in the first instance we work with these 11 countries.
- What can you offer to Kazakhstan's business?
- When we choose projects, we proceed from proposals of local business - what can be created, what partner they would like to find. We want to raise Kazakhstan's business to the international level. And without technology, without credit resources and proper management, this is impossible.
Therefore it is necessary to work on each project individually, and to have an unconventional approach, to back up initiatives. We try to get across to every investor that we are available.
If we fail, no project will ever be implemented. We have already gone through that. We want projects - it is necessary to deal individually with each project, to bring it to a successful conclusion.
- Thank you for the interview!
August, 2018
© 2020 Interfax-Kazakhstan news agency
Copying and use of these materials without reference to the source is prohibited
Archive