Eurasian Development Bank CEO Dmitry PANKIN:
EDB MAY BORROW MORE MONEY FROM KASE OR FOREIGN MARKETS UNTIL THE END OF THIS YEAR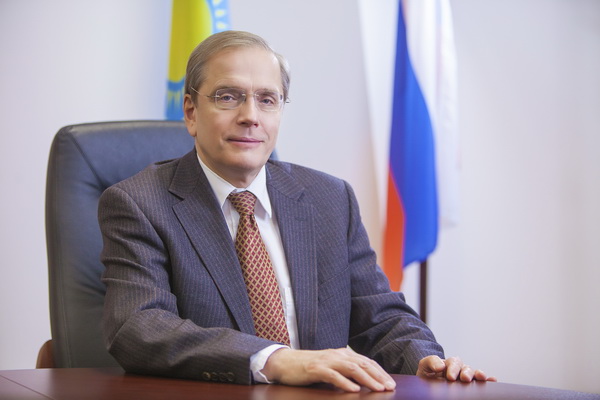 The Eurasian Development Bank (EDB) issued bonds worth $48 million on KASE in May 2017. This issue was 200% oversubscribed. The bank may issue additional bonds on KASE this fall. Eurasian Development Bank CEO Dmitry PANKIN told Interfax Kazakhstan in an interview that EDB does not rule out borrowing from foreign markets by the end of this year.
- Mr. Pankin, EDB issued bonds on KASE in May 2017. Could you tell us more details about the buyers?
- EDB issued 15 billion tenge in bonds, 48% of which were purchased by insurance companies, 28% by Kazakh banks and 24% by management companies. The most important thing is that all these investors are not short-term speculators but partners who intend to hold the securities for a long time.
- How did the bank use the bond proceeds?
- We have a large tenge-denominated loan portfolio. We spent the funds to finance telecommunication projects, particularly Kcell, and to upgrade the gas transport network in Kazakhstan's regions.
- What were the telecommunication projects that EDB financed?
- EDB financed an LTE-connectivity project that will allow rural population to have a broadband internet access.
- You earlier said that EDB planned to issue bonds worth $100-150 million but so far the bank has only issued $48 million in bonds. Does the bank plan to issue additional bonds?
- We issue bonds depending on the market situation. We currently do not need to place additional bonds. As the last issue was 200% oversubscribed, we feel that we can issue bonds whenever we need tenge. What alternative do we have? Having a long USD cash balance, we can easily swap US dollars for short Tenge, often at a cheaper rate. We are now considering different options how to work most efficiently in the fall: whether to use swaps, or accumulate short Tenge, or refinance it, or issue additional bonds. We have not made any decision yet.
- Then will you revisit your decision about additional bond issue in fall?
- I think yes, we will consider it in the second half of the year.
- What is EDB's need in Tenge instruments?
- Almost 45% of EDB's loan portfolio is in Kazakhstan. It is the tariffs that generate revenue in the infrastructure and power sectors and, thus, the companies operating in these sectors would want to obtain loans in Tenge. In turn, we will do our best to continue extending them Tenge-denominated loans. I would also like to mention here that we entered the exchange market as market maker for KZT/RUB pair. The wider use of national currencies helps to improve the liquidity of the national currency. EDB is already trading the KZT/RUB pair. In the future, we plan to trade the Belarusian Ruble in Belarus and the Armenian Dram in Armenia.
- Do you plan to borrow money from foreign markets?
- This year we do not plan to borrow funds in Dollar and Euro from foreign markets. There is currently no need. However, EDB may issue Tenge- and Ruble-denominated Eurobonds until the end of this year. We will issue them if the borrowing costs are lower in comparison with the local bonds. We are considering this option now.
- Is there any progress with Ivolga?
- There have been no drastic changes. We are still in litigation with Ivolga-Holding LLP. This is a very difficult process.
- It was said earlier that the court obligated the guarantor Vasily Rozinov to pay off part of the debt. Did you receive the money?
- The court decisions relating to the debtor, as well as the guarantor and pledger have already taken effect. Vasily Rozinov gave his personal guarantee. We have only been able to recover a small amount from him - about three million tenge. However, as it always happens, you win in court, then the other party lodges an appeal seeking revision of the court decision. It is a lengthy process.
- In February, the Kazakh Ministry of Agriculture created a committee to work with agricultural companies that have non-performing loans, including Ivolga Holding. In particular, the minister announced the creation of a board of creditors within the committee to work with the holding companies during their bankruptcy. Is there any progress here?
- An EDB representative works on the board. However, no solid results have been achieved yet. EDB extended loans to Ivolga Holding LLP and KazExportAstyk. The loans later became non-performing. We expect that the Ministry of Agriculture will consider EDB's interests and will not book the loss as resulting from the bankruptcy of the agricultural companies.
- What options does the ministry offer?
- To the best of my knowledge, no firm offer has been made yet. It may be an option of debt restructuring against the government's guarantees or subsidies from the government. Possible options are still under discussion.
- What are EDB's other projects in Kazakhstan? You previously said that EDB had negotiations with Fattoh Shodiyev about construction of a warehousing and distribution center in Astana.
- We failed to enter into an agreement on the warehousing and distribution center in Astana because there was a problem with loan collateral.
EDB now plans to finance construction of a warehousing and distribution center in Domodedovo jointly with the national company Kazakhstan Temir Zholy (KTZ) and Vasily Anisimov, the owner of Coalco Development Company. The cost of the project is about $150 million. The project is of a great interest for us as it will be part of the Silk Road infrastructure. The problem is that the infrastructure has roads but lacks cargo-handling facilities and freight forwarding support. The Western Europe – Western China corridor does need such a logistics center. It is important to us that KTZ takes part in this integration project. The ownership structure of the project is yet to be determined. So far, we do not know the size of the share KTZ will own in the project. Negotiations are still ongoing.
We are considering a project for modernization of the Aktau seaport. We are also in talks about the financing of an airstrip repair project at the Almaty airport, which will require a loan of $13 million for the purchase of runway equipment. We plan to close the deal this year.
EDB has a great number of road projects in Russia and Kazakhstan, such as Big Almaty Ring Road (BAKAD). The project may be financed by the government without involving investors. There is still no final decision about the financing of this project. We are also in negotiations with Central Asian Energy Company about the financing of Russian equipment supply to the Kazakh power market.
The bank made a decision to finance the Alaigyr project and signed a loan agreement for $56 million. We have not yet decided anything on the Azia Avto project, because AvtoVAZ did not provide any guarantees to sell the cars. We believe that this is a very important aspect. We need these guarantees.
We signed an agreement with RG Brands. The total amount of financing is $50 million. RG Brands sees to buy assets in Russia. It is an integration project and we are interested in it.
- Are there any other countries that want to join EDB's capital?
- It is essential to understand that this question is in an early stage of discussion. As far as Mongolia is concerned, we had meetings at various levels, including the head of the central bank and the finance minister. They were quite interested. I personally had a meeting with the Serbian finance minister and he expressed a great interest too. Cambodia is also interested. According to our analysts, Cambodia is a rapidly developing country with lots of interesting potential joint projects.
We are not in talks with them yet, but we believe that such countries as Korea, Japan, India and some other large investors, with a significant economic interest in our region, may want to join the bank.
- What countries would EDB want to see as its members?
- EDB can hold negotiations, exchange opinions and discuss potential projects but the decision is to be made by the governments. It is their competence. We can only pave the way.
– Thank you for your time!
June, 2017
© 2019 Interfax-Kazakhstan news agency
Copying and use of these materials without reference to the source is prohibited
Archive