U.S. Ambassador to Kazakhstan George KROL:
US NEW ADMINISTRATION IS UNLIKELY TO CHANGE POLICY TOWARDS CENTRAL ASIA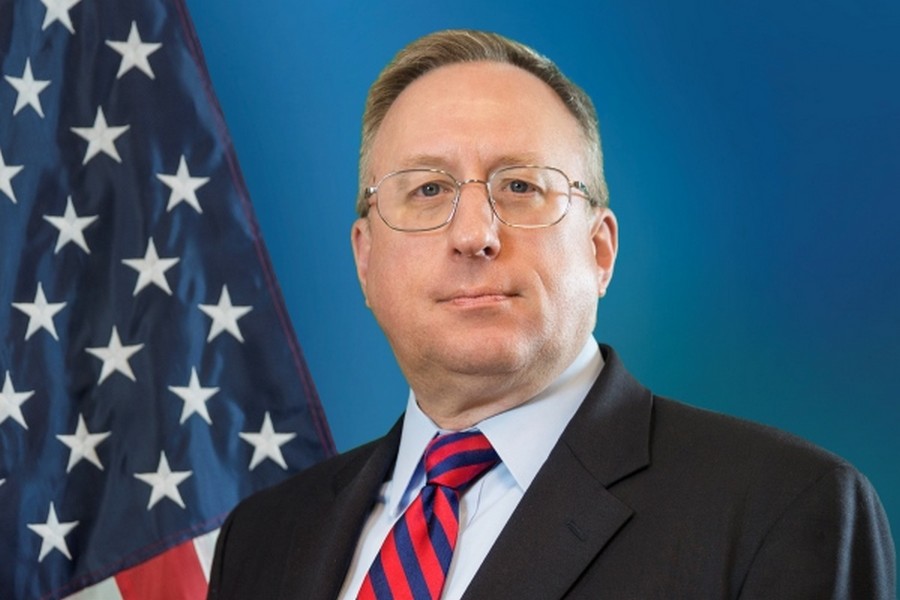 This year Kazakhstan and the U.S. celebrate the 25th anniversary of diplomatic relations between the two countries. The U.S. Ambassador to Kazakhstan George KROL told Interfax-Kazakhstan in an interview about America's policy towards Central Asia and economic interests of American investors in Kazakhstan.
- The U.S. Under Secretary of State for Civilian Security, Democracy, and Human Right Sarah Sewall said earlier at a press conference in Astana that Washington is ready to cooperate with Kazakhstan on counterterrorism. What are the specific aspects of such cooperation?
- Terrorism is clearly a common threat that we all face, both the United States and Kazakhstan. We do know that this issue is very important for the government and the people of Kazakhstan, particularly after the incidents that have taken place in your country this year. The U.S. and Kazakhstan are working together to counter violent extremism and particularly DAISH/ISIL. Kazakhstan has been a participant in the working groups of the coalition of a number of countries that are interested in how to deal with and take actions against that phenomenon of the ISIL or the DAISH. We are also in constant consultations and discussions - government to government - to share information on terrorist threats that can be acted upon by both governments. So, this is an ongoing process between our two countries.
More broadly, the United States and Kazakhstan have been discussing ways to share experiences on how to counter extremist ideology and radicalism in our societies. This is a very sensitive area for all societies because we want to protect the rights and freedoms of our peoples guaranteed by the constitutions of both the United States and Kazakhstan. We are all trying to prevent violent actions in our societies. We are discussing various experiences of the U.S. and Kazakhstan governments in how to handle this. For instance, we had meetings with the new Ministry of Religions and Civil Society and the Security Council of Kazakhstan to share our experiences, and Kazakhstan is reviewing those with great interest.
Also, we closely work together on countering illegal narcotics and learn a lot from each other. For instance, how Kazakhstan investigates into financial mechanisms of money laundering used by illegal narcotics traffickers because the same schemes can be used for terrorist financing. We also train K-9 dogs to find illegal narcotics and explosives. So, this sort of practical steps we are taking together.
- In your opinion, how effective is Kazakhstan in dealing with such threats?
It is a mutual process: we learn from Kazakhstan as much as Kazakhstan learns from us. As Kazakhstan is developing its laws and legislation, it tries to balance freedoms of the people with the type of vigilance that is necessary from the law enforcement agencies. After the 9/11 attacks the U.S. adopted legislation to react quickly to these threats, and this legislation was very debated in our country too. However, we have to be aware of any changes in these threats. Our two countries are sharing experiences so that we both can come up with a sort of balance between protecting the rights of people and protecting their lives.
- During the C5+1 meeting in early August John Kerry proposed initiating a dialogue within the Global Counterterrorism Forum to assist Central Asian states in combating terrorist fighters. What is the status of this initiative?
It is just one of the five projects that the United States and the other five countries of Central Asia are working on together through this forum. The plans have been announced to launch this dialogue on counterterrorism very soon. We hope that Kazakhstan and other Central Asian states will use this forum to share their insights on how we can address terrorist threats and perhaps pursue regional and global coordinated responses.
- Why the NATO countries, the United States in the first place, do not see fit to coordinate with CSTO countries such important issue as placement of missile defense systems near the borders of CSTO countries?
- Well, the United States has certainly seen fit to try to coordinate with the Russian Federation on placement of ballistic missile defenses in Eastern Europe countries that are members of the NATO. The US has offered many a time to even set up a joint stuff center with the Russian Federation to monitor these sites as partners and not as adversaries. Unfortunately, our colleagues and partners in the Russian Federation have not agreed to do this. Even in the NATO format, the NATO-Russia Council has attempted to discuss this issue in order to allow the Russian Federation to be part of this operation.
These missile systems are only for defense, they are not offensive systems. In no way, shape or form these systems are directed against the Russian Federation or any CSTO countries. We have discussed this issue individually with each of these countries that may have any interest. There is nothing to hide here. I think every effort is being made by the United States and by the NATO to discuss this issue with the Russian Federation, which has had expressed concerns about this. As far as I know, none of the other countries of the CSTO have expressed concerns to the United Sates or the NATO about this. There may have been some questions from Belarus about the stationing of these systems and we explained to them that this is purely defensive installation but not offensive. It does not threaten their country's security. In fact, it should probably enhance their security. We do not expect to have adversarial relationship with any of the CSTO countries. We do not expect that there would be any country that would attack the United States or the NATO countries. The concern has been about a threat that may come from the Middle East where the situation is such that ballistic missiles could possibly be launched. Therefore, that is what this defensive system has been designed to deal with.
-Do you mean Iran?
- That is one of the concerns that have been made. There have been tests of missiles and things of that nature too. That has certainly been a concern of the US and other countries about the development of the ballistic missile program by the country that is a neighbor to Europe, Central Asia and the Russian Federation.
- In less than 60 days President-elect Donald Trump will be sworn into office. Do you think the United States policy may change in any way towards Central Asia after the new administration comes in?
- Of course, we do not know what their policy and priorities will be until the new administration comes in. What was said in the election is one thing and it may be another thing when the administration gets it feet on the ground after the inauguration. From my own experiences with the previous transitions to new administrations, particularly with regard to Central Asia, I do not really see that much will change in America's policy towards Central Asia and to each of the countries in the region. I think that Kazakhstan will remain a strategic partner of the United States. There is considerable American investment in Kazakhstan, particularly in the energy field. The United Sates and Kazakhstan will be together members on the Security Council of the United Nations next year. There are a lot of issues on which we work with Kazakhstan, like we mentioned earlier in this conversation: how to deal with challenges of extremism, radicalism not just in the region but in the world, as well as nonproliferation areas where Kazakhstan and the United States have been very coordinating. The United States certainly plans to have a pavilion at the EXPO-2017 next year. That would be a major part of our relationship that will continue in all spheres: economic, security, political and cultural, people-to-people ties. These things have been long planned, we have a long-term interest and we have a shared interest with Kazakhstan. I do not see any of that changing with the new administration. President-elect Donald Trump has said that he is extending the hand of cooperation instead of confrontation. We have an interest in stability, economic development and of course we would like to see American companies, being a part of the economic development of Central Asia, profiting from the growth. There are also people-to-people ties in such areas as education and culture.
- American companies in Kazakhstan are mainly present in the energy sector. Are there any other areas that would be attractive for American investors?
- At the conference dedicated to the 25th anniversary of Kazakhstan's independence, Professor Frederick Starr from the Johns Hopkins University presented a report on Kazakhstan's development in the next 25 years. One thing mentioned in the report was that Kazakhstan should diversify its economy. I know this is a priority for the government of Kazakhstan and I think the United States would like to see that happen. One area that I mentioned myself in previous interviews and that Dr. Starr was talking about is agriculture. Kazakhstan has a great potential for developing its agriculture. There is already a major export of wheat but there is a lot of underused potential in the republic. Kazakhstan could have been one of the great meat producers in the world, even despite the severe climate in the north of the country. There are a lot of countries like the US with our northern states and Canada that are very successful in developing agriculture in cold climates. I think that is an area that can be a focus of Kazakhstan in developing and making it attractive for foreign investment in your agriculture.
I saw recently new packaging of Kazakhstan's great apples and they look like in a store anywhere in the world, very attractive packaging, and of course the apples themselves are the most delicious in the world. I think there is a lot of potential for the agricultural sector.
It is a competitive market in the world. I think Kazakhstan has certain advantages of its recourses. Even though it is far from markets, the infrastructure developments like building railways, roadways, as well as air transport can help reduce the cost of transportation that would make Kazakhstan even more attractive and allow the country to develop its economy.
- Thank you for your time!
December, 2016
© 2019 Interfax-Kazakhstan news agency
Copying and use of these materials without reference to the source is prohibited
Archive